Enterprise Transformation
IT has been manufacturing the Enterprise (building systems) for 70 years or so... but the Enterprise was never engineered. Therefore, IT has not been manufacturing the Enterprise... they have been manufacturing PARTS of the Enterprise ... and the parts don't fit together (they are not "integrated").

Enterprises around the world have been transforming themselves into tomorrow's innovative leaders by taking advantage of the rapid technology growth and the increasing power of social media. Competitive advantage goes to those who are agile, transparent, adaptive, and more importantly, capable of quickly processing large volumes of various spatio-temporally distributed information at a high speed. Many companies drive business transformation using enterprise architecture as a means to confront complexity and resulting fragmentation, thereby achieving coherence and integration. However, instead of simplifying enterprise structures and streamlining information flows, modern enterprise architecture frameworks focus on the architecture process, not the substance of enterprise design, thus creating unnecessary problems and complications.
The enterprise engineering framework (EEF)—a novel approach to enterprise architecture—provides a simple and comprehensive blueprint for transforming your organization into a world class digital enterprise.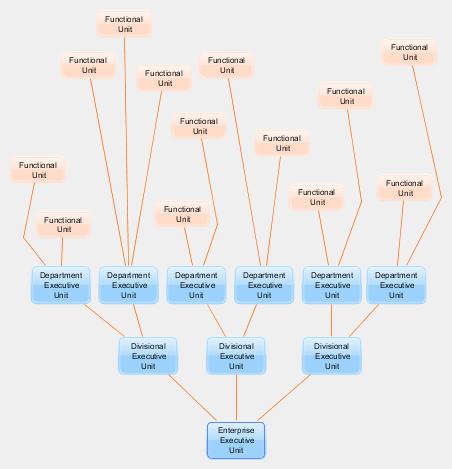 Key Enterprise Trends
Several current technology trends contribute to our understanding and awareness of the need for enterprise transformation:
Rapid evolution of enterprise technologies.

The unprecedented pace of development of existing technologies and the emergence of new ones create a constant and growing pressure on enterprise architects to adopt and integrate these technologies into their ecosystems.

Data explosion and ever-expanding information flows.

Every minute enterprises have to process variously structured (and unstructured) data that are streaming in and out at ever increasing volumes and speed. While there has been significant progress in development of the technologies that generate insight from large volumes of data (e.g. Big Data), virtually nothing has been done to reduce and streamline enterprise information flows.

Breakthroughs in artificial intelligence.

McKinsey states that "now is the time to begin planning for an era when the employee base might consist both of low-cost Watsons and of higher-priced workers with the judgment and technical skills to manage the new knowledge 'workforce.'" It means that now is the time to define the enterprise architecture that will but also enable the proper division of responsibilities between human and artificial agents.
Enterprise transformation is a four-phase process that begins with the social transformation, followed by systemic transformation and technological transformation. Once enterprise level transformation is completed, units transform themselves at their own pace.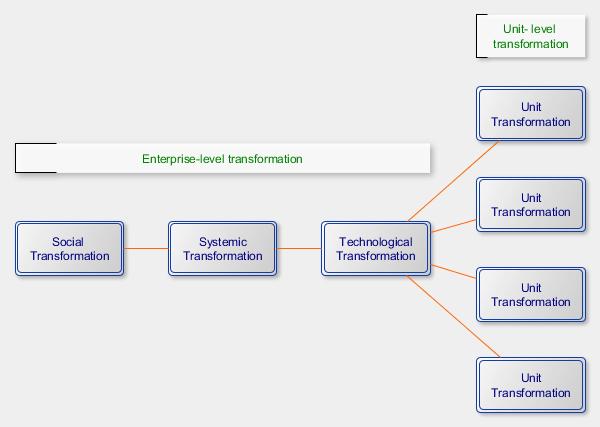 Social Transformation
Social transformation establishes human architecture of the enterprise by decomposing it into a network of units. Two modular structures—the enterprise as a network of units and the unit as a network of individual agents—are the core of a simple and elegant strategy for dealing with the complexity of the enterprise and its environment.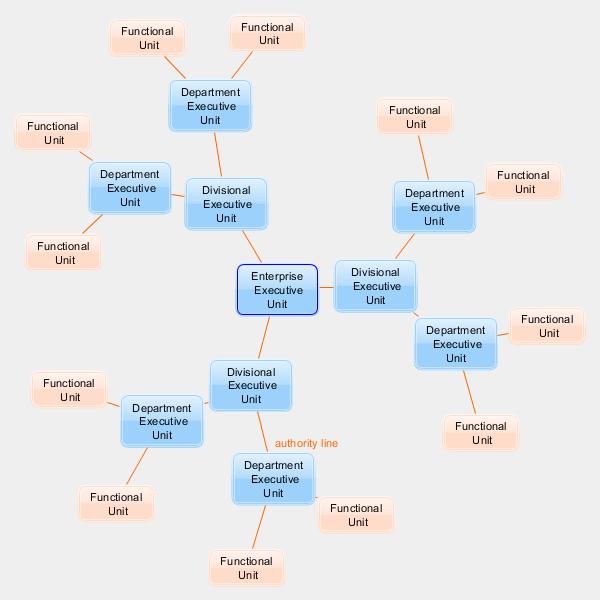 The main challenge of the social transformation phase is the elimination of individual human agents from the enterprise-level structure and their encapsulation within executive units, because individual agents are no longer capable of
processing large volumes of various information at the desired speed;
calculating, setting and frequently updating constraints (boundary conditions) for the units under their authority, and exposing them as formal decision interfaces;
maintaining the history, running effective analytics, and continuously learning from the decisions made.
Social transformation creates an enterprise-level structure that consists of composite agents (units) capable of effectively and efficiently processing enterprise information.
Once the human architecture has been completed, one can move on to defining digital architecture of the enterprise, which begins with the formalization of unit boundaries.
Systemic Transformation
Systemic transformation aligns human and digital architecture of the enterprise by establishing formal digital boundaries between enterprise units. "Good fences make good neighbors," the poet Robert Frost once said.  
In The Phenomenon of Life: Nature of Order, architect, town planner, and academic, Christopher Alexander, better known as the father of design patterns, introduced the concept of fifteen fundamental structural properties that generate life and wholeness from a system of centers. These properties include (1) levels of scale, (2) strong centers, and (3) boundaries, among others. The author describes the role of boundaries as follows:
The EEF views the enterprise as a network of strong centers—units. A unit's boundary is a set of interfaces that together represent a formal contract between the unit and its environment. Boundaries both separate and connect units to the environment, thus protecting them from negative effects and, at the same time, enabling mutually beneficial interactions with the environment.
Systemic transformation hides people, processes, technology, and data within enterprise units, thereby substantially reducing the enterprise-level information flow.
Technological Transformation
Once units' boundaries have been established, it is time to turn your attention to enabling flexible coordination and communication both between the units and between the units and the environment. The EEF offers a novel approach to enterprise coordination—Worknet Management, which relies on event driven architecture to support enterprise communication.  
The traditional command-and-control coordination mechanism—business process—realized in modern Business Process Management software is still suitable for highly optimized production workflows, well-defined case management and straight through processing scenarios, and administrative workflows. It became obvious, however, that business process has not been the right coordination mechanism for highly uncertain work—the work that requires tacit knowledge and human expertise, the work that is performed by modern knowledge and relationship workers.
Technological transformation creates flexible linkages between enterprise units, thereby optimizing work streams, minimizing friction, and reducing dependencies between units at the enterprise level.
The EEF introduces a new operation type—worknet—as the only coordination mechanism implemented at the enterprise level. Worknets can be used along with processes at the unit level.
Whereas social transformation assigns (business) responsibilities to enterprise units, and systemic transformation formalizes their runtime behavior, technological transformation enables expectation-based coordination and event-driven communication between the units.
Unit Transformation
Units are main—and essentially the only—enterprise-level building blocks. Architecting the enterprise as a network of units creates improvisational theater-like environment, where each actor plays multiple roles without use of an already prepared, written script.
In addition to running day-to-day operations, units subscribe to and receive information about events that occur in both other units and the external environment, adapt that information to their contexts, and may or may not take further action and, in turn, publish information (event) about that action.
A unit is defined by its Purpose, Function, Process, Structure, and Culture.
Purpose is a collection of roles the unit plays in the environment; to attract the customer, it is usually stated in the title, for example, Sales and Marketing (two roles), Accounting (one role), or Research and Development (two roles);
Function supports the Purpose and enables the unit's interactions with the environment; it is implemented as a collection of boundary interfaces;
Process support the Function and enables the unit's runtime operations; it may implemented as a collection of processes and worknets;
Structure supports the Process; it is implemented as a network of individual (human and software) agents, each playing a set of roles and performing respective tasks;
Culture supports the Structure and energizes humans; it is manifested in collective values, customs, beliefs, myths, stories, unwritten rules, and implicit theories.
Unit transformation creates digital structures that align a unit's purpose, function, process, structure, and culture.